Engineering Change Notification - NHD-0416BZ-NSW-BBW: 03/17/23
This notice is to inform you of a change to the NHD-0416BZ-NSW-BBW LCD display.
The backlight and PCB used in the manufacturing of this display have been redesigned to improve the anode and cathode connections between the backlight module and display PCB.
Backlight: Mechanical structure modified. No change to input power requirements.
PCB: Cutout for backlight leads removed and replaced with a straight edge on the board.
All our testing found the new version to be backwards compatible with existing systems.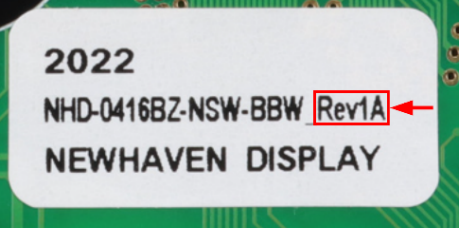 The new display will be labeled with a Rev1A identifier after the part number.
| | |
| --- | --- |
| Old Design | New Design |
| | |
| | |
We understand that every customer's application is unique, and therefore recommend you test and validate samples of the updated design.
Samples may be purchased by contacting us at nhsales@newhavendisplay.com. When ordering samples, please specify that you would like to receive the new version.
Please email nhtech@newhavendisplay.com for further information or assistance with this change.