OLEDs in Full Color
Our 18-bit, full color graphic OLEDs are passive matrix displays that come equipped with all necessary logic and a slim 5mm profile. The full color OLEDs are ideal for consumer or handheld devices to enhance user interface experience. A resistive or capacitive touch panel can also be applied.
Full color modules are displays that already have PCB attached to the glass. They offer mounting holes for easily application and are customizable. We also carry full color OLED glass options that have no PCB, providing the freedom to design your own circuit best suited for your application and size.
Exclusive to OLED Glass
Exclusive to OLED Modules

Freedom to choose mounting configuration
Freedom to use custom designed circuit
5 different standard sizes
We can provide a custom-designed board for your application OLED Breakout Boards

3.3V interface & controls driver voltages
Mounting holes provided
Bezel provided
We can alter the current board to fit your needs
How Full Color OLEDs Work
Color OLEDs consist of a metal cathode with a negative charge, an electron transport layer, organic material, a hole transport layer, and an anode with a positive charge. The cathode and anode are arranged perpendicular to each other, creating a pixel where they intersect. Each pixel of a color OLED is divided into red, green, and blue sub-pixels.
When the controller sends an electric current to a particular pixel, the current passes through the organic material causing the material to emit light. By adjusting the intensity of the electric current in each red, green, and blue sub-pixel, specific colors and gradients can be created.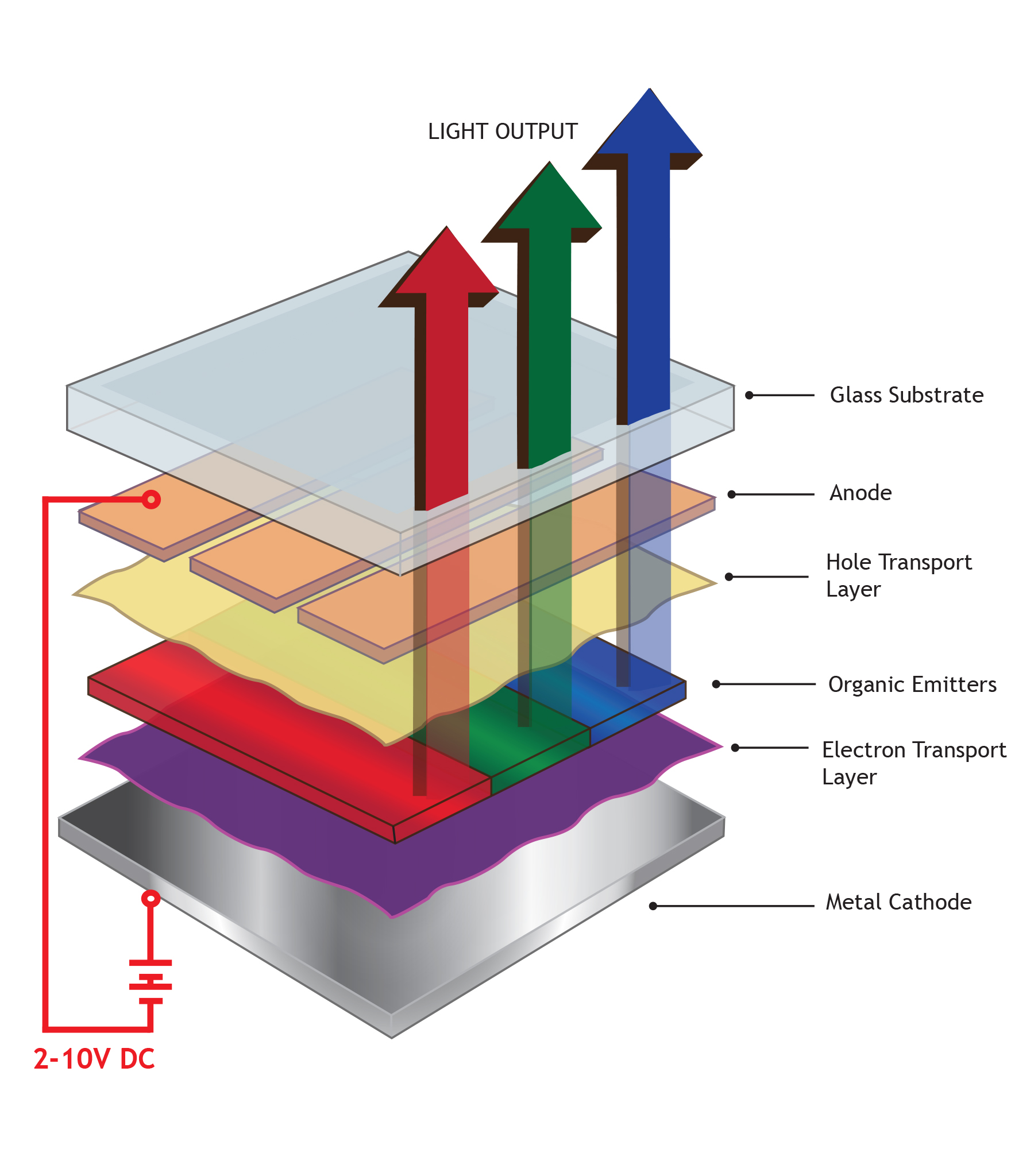 Check out our video introducing our line of full color OLED glass displays: