MVA: Multi-domain Vertical Alignment
These displays offer wide viewing angles, good black depth, fast response times and good color reproduction and depth. Each pixel within a MVA type TFT consists of three sub-pixels (Red, Green and Blue).
Each of these sub-pixels is divided further into two or more sub-pixels, where the liquid crystals are randomly lined up due to the ridged polarized glass. When a charge is applied to the transistor, the crystals twist.
With these crystals being randomly placed, it allows the backlight to shine through in all different directions keeping the intended color saturation retained while giving the display a 150° viewing angle. We offer this technology in our Premium TFT models with the option of a resistive or capacitive touch panel.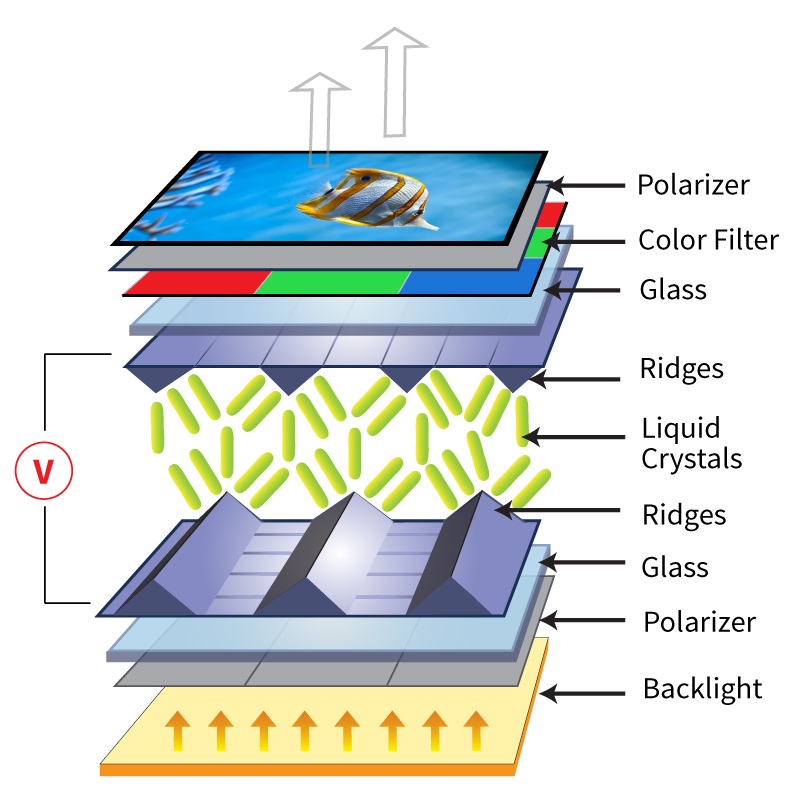 Premium (MVA) TFT Displays
Premium TFT Displays are a step up from our standard TN TFTs with brighter backlights and wider viewing angles. By using MVA technology, these displays offer rich blacks and have the ability to retain constant color reproduction at up to 75° angles from all sides. Premium TFT displays also have higher brightness LEDs than the standard TFT displays giving these display types a better overall picture quality for more visually demanding applications.