In-Plane Switching (IPS) technology acts on the liquid crystals inside an LCD, so when voltage is applied, the liquid crystal rotates in parallel (or in-plane), allowing the light to pass through instead of turning upright. This behavior of the crystals significantly improves many viewing aspects of the display.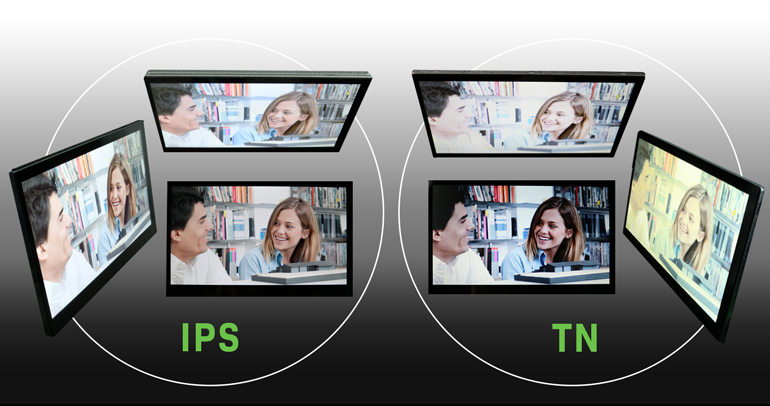 Compared to regular TN panels, IPS is superior in color, viewing angles, and these TFTs can even handle direct sunlight due to their high brightness.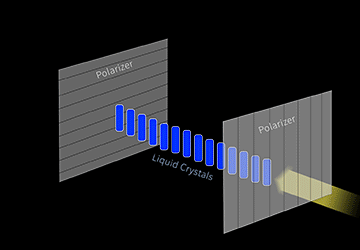 What's Going On?
In the animation above, both linear polarizing filters have their axes of transmission in the same direction. To obtain the 90 degree twisted nematic structure of the liquid crystal layer between the two glass plates without an applied electric field (OFF state), the inner surfaces of the glass plates are treated to align the bordering liquid crystal molecules at a right angle. Because the arrangement of electrodes are in the same plane and on a single glass plate, they generate an electric field essentially parallel to this plate.
The liquid crystal molecules have a positive dielectric anisotropy and align themselves with their long axis parallel to an applied electrical field. In the OFF state, entering light becomes linearly polarized by polarizer. The twisted nematic liquid crystal layer rotates the polarization axis of the passing light by 90 degrees, so that ideally no light passes through a polarizer. In the ON state, a sufficient voltage is applied between electrodes and a corresponding electrical field is generated that realigns the liquid crystal molecules and light can pass through a polarizer.
Watch our video highlighting our 7.0" IPS TFT displays and explaining the technology:
This next video compares our 4.3" IPS TFT with the standard model in direct sunlight, as well as highlight our 2.8" IPS TFT display.