Display Modes
LCDs are typically divided into three display types based on their light transmission modes. The three main types of LCD modes are transmissive, reflective, and transflective. The main difference is how they use light to illuminate the pixels in the display.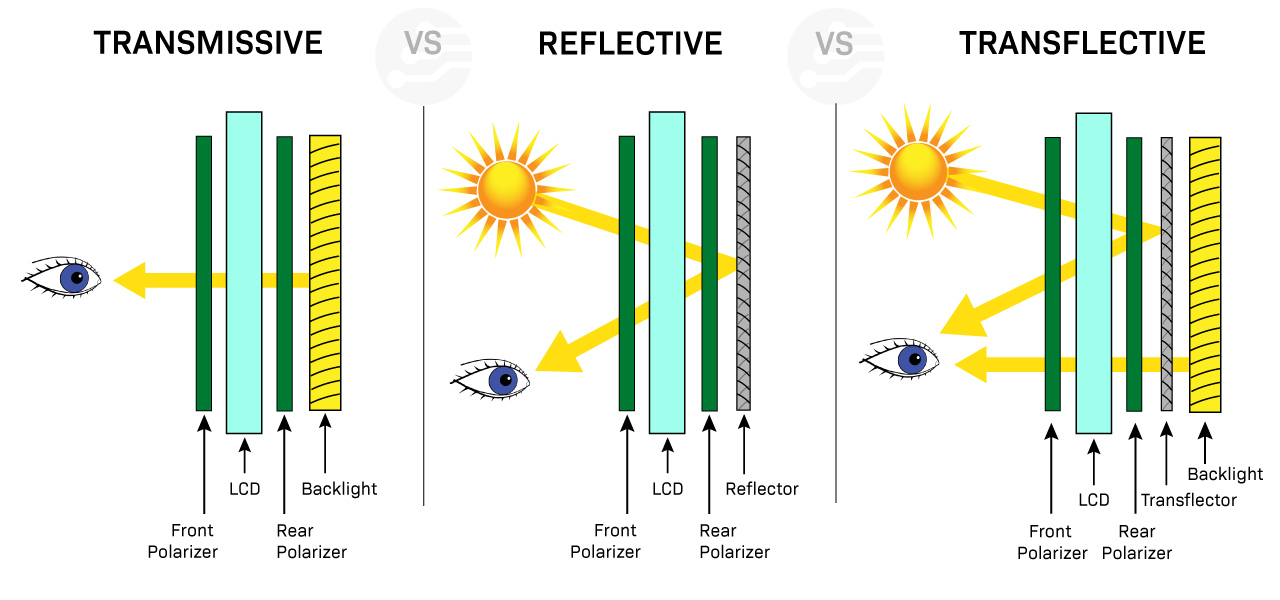 Transmissive Displays
Transmissive displays rely on a backlight to be visible. For this kind of display, light emitting from the back of the display glass must pass through the LCD towards the front to light the pixels. Transmissive LCDs are suitable in low-light environments since they rely on a backlight to be visible. These displays are also used in applications where high-resolution images, videos, and high quality are important.
Reflective Displays
Reflective displays rely on bright ambient light to be visible. There is no backlight source inside this kind of display; instead, light is reflected from the surrounding environment for the pixels to be visible. Reflective LCDs are great for outdoor or sunlight-readable applications where the device is exposed to direct sunlight. These displays are also used in small handheld devices where power consumption is a concern.
Transflective Displays
Transflective displays combine backlighting and ambient light reflection to illuminate the pixels, resulting in a display with both transmissive and reflective properties. Transflective LCDs are commonly used in industrial and medical equipment, where it's essential to have high visibility in any lighting conditions.
To learn more, read our article called Transmissive vs Reflective vs Transflective Displays inside our blog.
---
Twisted Nematic (TN)
This technology consists of nematic liquid crystal sandwiched between two plates of glass. When power is applied to the electrodes, the liquid crystals twist 90°.
Super Twisted Nematic (STN)
This technology has rapidly become a standard for most monochrome passive-matrix LCDs. It uses the same principle as TN displays but uses less power and is typically less expensive. The liquid crystals in STN technology have a 210° - 270° twist which allows for a broader transition region for gray scaling. STN displays can also be made purely reflective for viewing under direct sunlight.
Film Compensated Super Twisted Nematic (FSTN)
This technology uses a film compensating layer between the STN display and rear polarizer. This additional film increases the overall sharpness and contrast of the display.
Positive Display Type

Positive displays provide an image with dark pixels on a light background. Ambient light or a backlight can be used for this type of display and is capable of multiple background colors.

Negative Display Type

Negative displays provide an image with light pixels on a dark background. The backlight must be used for this type of display and is capable of multiple pixel colors.