Engineering Change Notification 02/08/2021
This notice on February 8th 2021, is to inform you of a change to the following OLED products:
NHD-2.7-12864WDW3
NHD-2.7-12864WDW3-M
NHD-2.7-12864WDY3
NHD-2.7-12864WDY3-M
NHD-2.7-12864WDY3-RS
NHD-2.7-12864WDY3-SL20
The bezel has been redesigned to improve module assembly and installation processes. Bezel width on the top side has increased from 74mm to 74.2mm. Bezel width on the bottom side has decreased from 74mm to 73.4mm. The decrease in width on the bottom side of the bezel results in greater clearance to use the bottom left and bottom right mounting holes on the PCB.
Drawings and photos comparing the old and new designs are included at the end of this notification.
We understand that every customer's application is unique, and therefore recommend you test and validate samples of the updated design. Samples may be requested by contacting us at nhsales@newhavendisplay.com. When requesting samples, please specify that your inquiry pertains to the new version. To obtain the full datasheet of the new version please contact our engineering team at nhtech@newhavendisplay.com.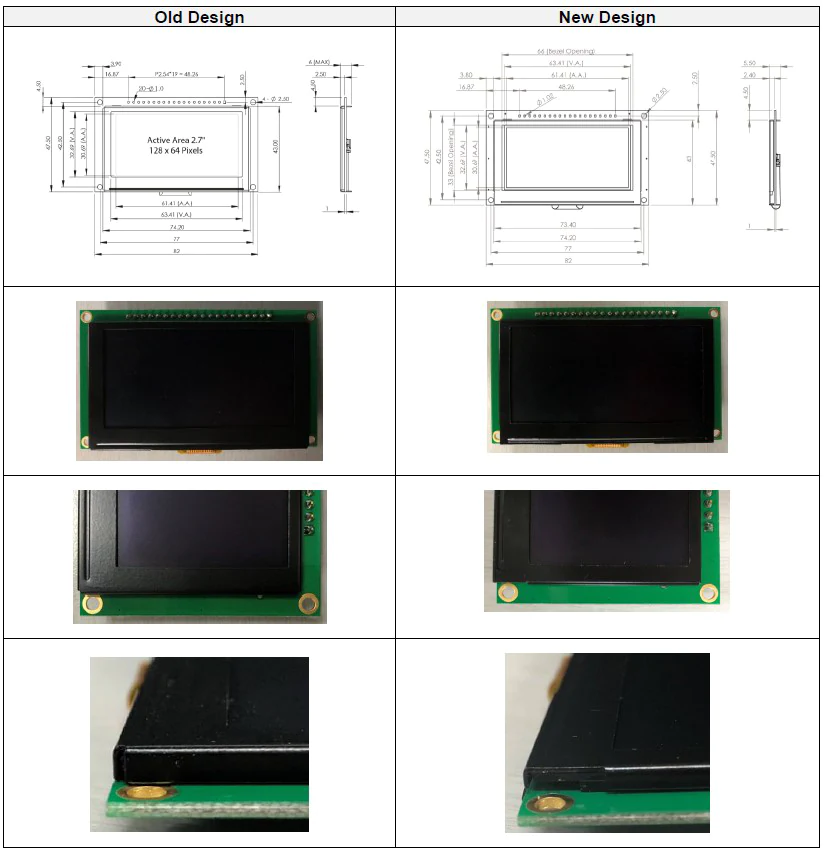 Please email nhtech@newhavendisplay.com for further information or assistance with this change.